A Solar Panel Installation Project Will Help Conserve Energy at Your Home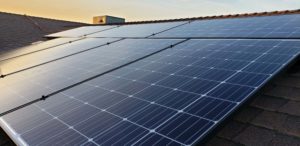 If you find that your home's utility bills are increasing at a high rate, a solar panel installation is one possible solution. Operating off the sun's limitless energy, solar panels can be a great way to give your home a boost in energy efficiency while also potentially saving you money.
Many solar panel companies will go right ahead and sell panels without truly assessing the home's existing energy efficiency or lack thereof. But at NuTec Solutions, we make sure you don't invest in a solar panel system without all of the information you need. So, whether you're a resident in Southern Nevada, Central California, Montana, or Illinois, let us give your home's efficiency a boost.
Addressing Your Home's Energy Inefficiencies First
Before NuTec Solutions completes any solar installation job, we first tackle a home's existing inefficiencies. A home may meet local energy codes, but that doesn't mean it's operating as efficiently as it could be. We can bring it to a new level of efficiency.
We begin by assessing your utility bills and performing an on-site assessment to determine exactly where inefficiencies are. Then, we'll recommend the solutions that will best address the issues, particularly those involving excessive heat transfer in the attic, poor ventilation, and improper insulation. The goal is to first reduce consumption. Once that is achieved, we can provide an optional solar panel proposal, which will include how many solar panels you might need, what size they should be, and how much we expect to be able to save you on your bills.
Why Consider a Solar Installation?
While solar panels aren't necessarily for everyone, most people will enjoy having a more comfortable and energy-efficient home with a solar panel system installed. If you do invest in solar panels, you'll enjoy a variety of benefits, including:
Far less dependence on the power company to supply your home
Potential savings on monthly utility bills
May increase property value * When the system is purchased
A lower carbon footprint
Our Solar Installation Process
When you're considering having solar panels installed at your home, look no further than NuTec Solutions. Our thorough process is designed to give you the best experience possible.
If you decide to proceed with our solar installation services, we'll start by providing you with a report indicating how much we expect to be able to help you potentially save. Then comes the approval process and the required documentation, which is followed by a home survey so that we can ensure the panel size and style you selected is a proper fit. After that, we acquire all the needed permits before installation. And finally, once our work is done and inspected, your new panels can be activated.
To make the process even smoother and more affordable for you, we offer exceptional financing plans that 75% of our customers take advantage of.
For more information on how our solar panel installations and energy efficiency packages can make a difference for your home, contact NuTec Solutions today. We proudly serve homeowners in Southern Nevada, Central California, Montana, and Illinois.