Energy-Saving Solar Attic Fans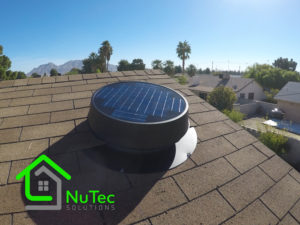 For a simple and sensible way to improve the energy efficiency of your home, consider investing in a solar attic fan from NuTec Solutions. We are an authorized distributor of Natural Light's industry-leading fans, which are sure to help cool your home and potentially save you money on monthly utility bills. Plus, we offer them all throughout Southern Nevada, Central California, Montana, and Illinois as well.
How Solar Attic Fans Work
When the summer sun beats down on your roof, it's inevitably going to heat up the attic. Your home's roof and soffit vents may allow for some air circulation in the attic, but it's not enough to prevent your roof and attic from absorbing extreme heat.
A solar attic fan, installed in a roof, uses sunlight to power its motor, which then increases air circulation in the attic. The improved circulation generates the high pressure needed to force hot air out of the attic, cooling it down considerably. In the summer months, solar attic fans can reduce an attic's temperature by up to 40 degrees. This can help your home maintain a more comfortable temperature and reduce the strain on your HVAC system, which helps conserve energy.
Our solar attic fan is also beneficial because it serves as a way of adding ventilation to your home without impacting its structure. Plus, it is available in four different sizes and three different mounting times, which means there is sure to be an option that suits your home's needs.
And to protect your investment in one of our solar attic fans, NuTec Solutions offers a 25-year manufacturer's warranty – one of the best in the industry.
Attic Ventilation is Key to Your Home's Health
To protect your home's health, having a properly ventilated attic is a must. But it's just one part of an entire system that makes a healthy, energy-efficient home. At NuTec Solutions, our highly skilled energy consultants perform thorough on-site assessments to discover energy inefficiencies in a home, then suggest the best products that will solve these problems. And with decades of experience in the construction industry, we have the skills necessary to install our products properly.
If you want more information about the attic fan installation services we offer to homeowners in Southern Nevada, Central California, Illinois, and Montana, contact NuTec Solutions today. Ask us about our affordable financing options.