Home Energy Audits and Efficiency Packages That Help Homeowners Save Money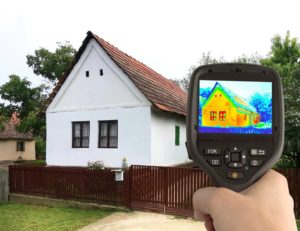 When your home is very energy inefficient, it's easy to jump to drastic conclusions and make sizable investments to correct the issue. But with NuTec Solutions, we can assist you with a more measured approach. Our knowledgeable team of professionals can assess your home and give you an honest and transparent recommendation about your next steps. We are based out of Las Vegas, but we also proudly serve homeowners in Southern Nevada, Central California, Montana, and Illinois.
We are different from other solar companies in that we typically offer our outstanding home energy audit and energy efficiency package before advising homeowners to invest in solar panels. These packages are simple fixes that attack your home's inefficiencies first. From there, you can decide whether or not you want to go solar.
Why We Offer Our Energy Efficiency Package First
Rather than suggesting a comprehensive project right away, NuTec Solutions goes for the low-hanging fruit first. We look at it like this: if you're driving and there's a hole in your gas tank, you're not going to go looking for cheap gas to solve the problem. You're going to find a way to plug the hole first. That's what our energy efficiency package does for your home. The "hole" is energy inefficiencies, and we offer a bundle of quick fixes to plug it.
At the most basic level, we want to help make your home as energy efficient as possible. Plenty of homes may be up to "energy codes," but that doesn't mean they are operating as efficiently as they could be. That's another reason we offer the home energy audit and energy efficiency package on the front end. It is a valuable, cost-effective option for our customers to save energy at their homes without necessarily having to jump right into an investment in solar panels.
What Does Our Energy Efficiency Package Do?
Any time you're looking to make your home more energy efficient, the attic is the place to start. That's what this package targets, as the attic is where the most heat transfer takes place. When you decide to take the first step with us, our skilled team will install all components of this package in a way that will maximize your home's efficiency. With the prevention of heat transfer in the attic, your home will see a wealth of benefits. Your HVAC system won't have to work as hard to maintain a comfortable temperature, which saves energy and, in turn, money. Every homeowner wants to use less energy and save more money on monthly bills, which is why this group of products from NuTec Solutions is such a spectacular option.
What's Included in Our Energy Efficiency Package?
While our home energy audit and energy efficiency package are primarily aimed at the attic, it involves multiple parts that work together to optimize your entire home's energy efficiency. With this package, we:
Level existing insulation and remove soiled insulation
Seal casings in the ceiling and windows
Insert or repair baffles
Clear soffit vents and repair ducting to increase ventilation
Ensure proper bathroom fan ventilation
Upgrade home lighting to high-efficiency LEDs
The process of making your home more efficient doesn't happen overnight, but this is an excellent place to start. We can begin with a free on-site assessment, which is where we can talk about the package and provide an optional solar energy proposal that lets you know how much money we expect to be able to save you.
If you're ready to make your home in Southern Nevada, Central California, Montana, or Illinois more efficient with our energy efficiency package, contact NuTec Solutions today.