Multilayer Attic Insulation That Keeps Heat Out of Your Home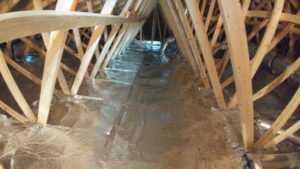 Dealing with harsh summers is no joke. That's why you need to ensure that your home is as energy efficient as possible. To help you with that, NuTec Solutions offers multilayer insulation (MLI) from eShield™, one of the leading brands in the industry. This attic insulation reflects heat rather than absorbs it, which will help your home save energy and potentially save you money. We are based out of Las Vegas, but we also serve homeowners in Southern Nevada, Central California, Montana, and Illinois with our outstanding products and installations.
What Multilayer Insulation Does for Your Home
There are three types of heat flow – conductive, convective, and radiation – that can expose your home's attic to extreme heat in the summertime. Traditional attic insulation will take care of conductive and convective heat flow, but radiant heat can still be a problem. In fact, it's the leading cause of home energy waste.
That's where multilayer insulation can make a difference. It reflects 97% of radiant heat, making it a significant improvement over blown-in insulation. When you have multilayer insulation added to your home's attic, it creates the same effect that you would get when you shut the lid of an ice chest. Because it reflects heat, it retains cool air inside the attic. As a result, your HVAC system can more easily maintain a comfortable temperature in your home. That's especially helpful during the heat of summer, as the lighter workload for your HVAC will save energy and potentially save you money on your monthly bill.
Pairing Multilayer Insulation With Your Home's Existing Insulation
Just because you're adding new multilayer insulation to your home doesn't mean your old attic insulation suddenly becomes unnecessary. The new will work cohesively with the old to create a complete solution for preventing energy loss. Plus, MLI can work in plenty of different areas of your home beside the attic, including bedrooms, bathrooms, walls, roofs, and basements. Regardless of where in your home you have MLI installed, you can expect a considerable boost in energy efficiency.
If you're interested in more information about how our multilayer insulation can improve your home in Southern Nevada, Central California, Montana, or Illinois, contact NuTec Solutions today.