The Solar and Energy Efficiency Company Serving Southern Nevada and Beyond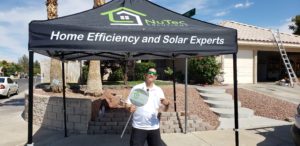 With energy efficiency such a popular topic of conversation among homeowners, there is no better time than now to start saving at your home. Your search for a solar and home energy efficiency company can start and end with NuTec Solutions. We can perform a wide variety of projects ranging from minor to major at your home, all of which are aimed to boost its energy efficiency and comfort.
Though we are based out of Las Vegas, we also serve residents of Southern Nevada, Central California, Montana, and Illinois. No matter where you are, keeping your home comfortable is sure to be a priority. Especially during a harsh summer, an energy-inefficient home is going to have problems with the HVAC system maintaining a comfortable temperature without being overworked. But after we finish with your home, you can benefit from a lighter workload for your HVAC, which not only saves energy but also can lead to savings on your monthly energy bills.
Our Process and Products
When you're interested in a project from NuTec Solutions, our first step is to evaluate your utility bill to see how much energy your home has consumed over the past year. From there, we will perform a complimentary on-site energy audit of your home that includes an optional solar energy proposal that tells you how much we expect to be able to save you.
For most homeowners, we offer our multifaceted energy-efficiency package to attack existing inefficiencies first. But aside from that initial package, we offer a variety of excellent energy-saving products and services, including:
What You Can Expect
Regardless of the product or service you choose from our solar and home energy efficiency company, you can expect to be treated to a first-rate experience. Our team of knowledgeable energy consultants will be honest and transparent with you at every turn, offering useful recommendations for your home's specific needs. Plus, you can rest assured knowing that your investment will be protected, as our warranties are among the best around.
Get Started Today
Whether you want to attack your home's inefficiencies on a smaller scale or go right ahead and invest in new solar panels, contact NuTec Solutions to schedule your on-site assessment today.